Steel Edging
Custom Skived Edging For CRS Annealed, Hard-rolled and Pre-tempered Strip Steel.
Utilizing premier, uniquely customized edging equipment engineered at Blue Blade Steel, our skiving process peels layers of material from the edges of the strip coil at speeds of up to 600 feet per minute to produce round, square, and custom contour edges. This process creates a tighter width tolerance than slit or rolled edges can offer and our computer driven technology assures repeatability from job to job, and coil to coil consistency that cannot be matched.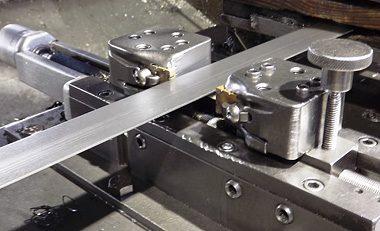 Blue Blade Steel's premier pre-skived edges create a more uniform hardness versus material that is slit from already tempered product and then skived. Hardness variation and "shiny" edges result from friction created in skived processing post-hardened material. Our unique process ensures the tempering process is done last when required to assure consistent hardness from one edge to the other. Call our experienced consultation team to learn more about our pre-skived process and how it will affect your application. Some benefits of Blue Blade's unique process include:
Custom Edging to customer specified profiles
Edging consultations and profile die design
Tight width tolerances
Minimized scrap
Longer tool life
Pre-skived strip steel from Blue Blade Steel is the material of choice for manufacturers from a variety of industries including blades for hand tools, power equipment, and spring products.
Why do I need a skived edge?
Edging strip can provide a number of advantages depending on how your part is processed and the specific end use of your product.
#1 Square Edge: For stamped parts, a skived square edge holds closer width tolerance from edge to edge than a sheared, or slit edge. Also, for precision blade manufacturers a square skived edge reduces scrap and processing time by eliminating the extra processing of burr that can be left from a slit edge.
#1 Round Edge: For spring manufacturers and exposed parts, a skived round edge provides greatly improved cycle life and a safer edge with chatter and burr eliminated meaning smoother uncoiling and safer handling for end users as well as your employees.
Click here to ask about other custom edge profiles.
Standard AISI Edges

No. 1 Square Edge
No. 1 Round Edge
No. 3 Slit Edge
No. 4 Round Edge
No. 5 De-Burred Edge
No. 6 Square Edge
Double Bevel

Hardened and Tempered Strip Steel Products and Custom Steel Edging Services.
Trusted by satisfied customers for more than 80 years!
Call us at
1-908-272-2620
Click here for our convenient online form.