Steel Coils
Oscillate and Flat Coils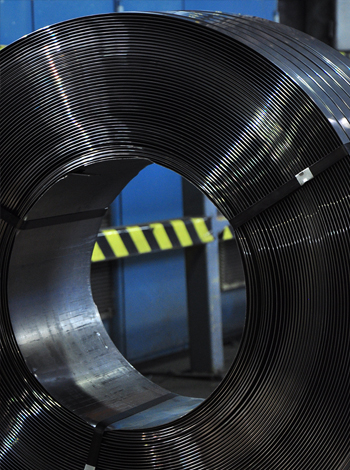 Understanding that our customers have different production models, Blue Blade Steel caters to both long-run processors by offering large oscillate coils, and short-run processors with the smaller flat coils.
Oscillate Coils:
Oscillate coil technology welds many flat coils together, end to end, to create a single coil. By oscillating the coil back and forth (much like fishing line is spooled) more material is consolidated on a spool, meaning fewer set-ups and less downtime for longer production runs. For customers focused on efficiency and productivity, this technology has a tremendous impact, lowering costs and reducing operator responsibilities. Click here to see our news article for more details.
Blue Blade Steel can process oscillate coils up to 1,500# in many cases, and utilizes welds that many of our customers find suitable for their applications. Widths currently being processed range from .400 up to 1 inch wide; inquire for other widths. We have also developed a number of ways to mark welds so they can be eliminated from your end product seamlessly when necessary. Our oscillating equipment utilizes the latest technology in laser-calibrated oscillating drums that are designed to wrap at even intervals across a 6 or 9 inch face of the bundle.
Call our team for a consultation to see how you can implement oscillate technology into your production process.
Flat Coils:
Utilized in short-run production processes, flat coils (also called pancake coils) wind up in a single strand much like a roll of paper-towels. Blue Blade Steel produces flat coils with minimal telescoping to prevent shifting of the strip when stacked. Our flat coils are banded 3-4 times per coil and stacked on ¾" to 1" separators to prevent edge damage.

Hardened and Tempered Lead Free Strip Steel Products and Custom Steel Edging Services.
Trusted by satisfied customers for more than 80 years!
Call us at
1-908-272-2620
Click here for our convenient online form.