Hardening & Tempering
On-Site Hardening & Tempering
Alloy Steel, High Carbon Steel, Martensitic Stainless Steel
Improve product performance and get to market faster with Blue Blade Steel's custom spring tempered steel hardening and tempering services for high carbon steel, alloy steel, and stainless steel materials, including flatwire.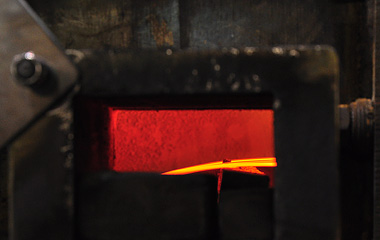 Blue Blade Steel is one of the first companies in the United States to produce hardened and tempered strip steel using a process utilizing the most precision driven, state of the art equipment in the U.S. An industry-leading achievement, our strip steel is safer for employees and customers who use these products in their manufacturing.
Gauge range of strip steel coils is from 0.011 to 0.125 inches in thickness with widths from 0.400 to 12.5 inches depending upon the application.
Our capabilities include:
RoHS Compliant Processing is available on request
Custom Heat Treated Properties
Tempered Martensite
Martempering
Austempering
In our on-site, state-of-the-art tempering furnaces, your steel product can be hardened and tempered to exact hardesses within +/- 1 1/2 C-Scale Rockwell points.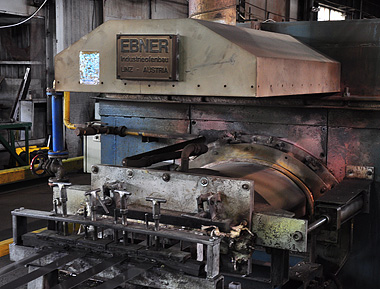 Got questions? Call 1-908-272-2620 now to speak with one of our steel specialists.
Benefits of Pre-Hardened Steel Processing
Blue Blade Steel's pre-hardened steel processing has been in operation for more than eighty years. Customers appreciate the lean and agile supply chain efficiencies our pre-tempered steel ensures: eliminating the time, damaged parts, and bottlenecks resulting from secondary heat-treating processes. Take advantage of our free tool and die consultation to gain insight and ensure your smooth transition from stamping annealed material to using our pre-tempered strip steel.
Visit our steel finishing page to learn more about custom and standard steel surface finishes, including scaleless and polished blue, bright, and more. Visit our steel edging page for illustrations and information about custom, skived and standard AISI steel edges.
Pre-Tempered Steel Means You Can:
Save on Time
Reduce Cost
Minimize or Eliminate Product Rejects From Distortion
Reduce Material Waste
Save on Shipping

Hardened and Tempered Strip Steel Products and Custom Steel Edging Services.
Trusted by satisfied customers for more than 80 years!
Call us at
1-908-272-2620
Click here for our convenient online form.