10B38 Alloy Steel Strip Coil
Blue Blade Steel offers a variety of alloy steel grades, including the boron-treated 10b38 grade alloy steel.
This type of alloy steel contains less carbon than the high carbon grades C1050-C1095 which are typically associated with heat treated steel. The introduction of just small amounts of Boron (.0005% to 0.003%) offers a cost-effective way to achieve similar heat-treatable qualities known of high carbon steels, but with smaller cross-sections and increased ductility and durability.

These qualities make 10b38 steel the ideal alternative for a wide variety of purposes, including the manufacture of specialty tools, rotary blades for lawn mowers, and edger blades.
The 10b38 grade of alloy steel possesses special characteristics that allow for increased penetration of hardness depth of the steel strip. This allows for an increased control of the hardness that can be achieved with a lower carbon grade while maintaining an increased level of toughness.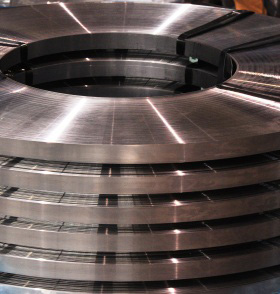 Hardness is important for steel in any condition, however achieving a level of hardness consistent through a piece of steel that has more ductility and less risk of an impact fracture is something that sets 10b38 grade alloy steel apart.
Blue Blade Steel's state of the art hardening and tempering process uses the latest technologies available for processing pretempered 10b38 steel. The proprietary process eliminates distortion and creates a consistent hardness for your hardened and tempered 10b38 grade steel unachievable by batch heat treatment methods.

Hardened and Tempered Strip Steel Products and Custom Steel Edging Services.
Trusted by satisfied customers for more than 80 years!
Call us at
1-908-272-2620
Click here for our convenient online form.