Spring Steel
Blue Tempered Spring Steel
Eliminate Downstream Costs and Delays with Pre-Tempered Spring Steel from Blue Blade Steel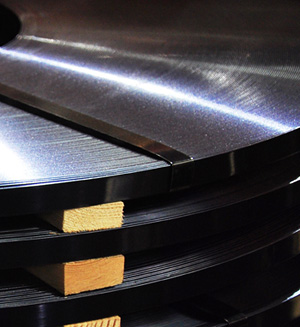 Stamping and spring steel manufacturers have been using pre-tempered blue spring steel from Blue Blade Steel to produce a higher quality product while reducing costs and lead time for finished parts. Specializing in long production runs, Blue Blade Steel is one of the few hardening and tempering mills in the world able to provide you with the highest quality, customized high carbon (see chart) pre-tempered spring steel that we harden and temper to strip steel tolerances! Always here to help you, our engineering and metallurgical team offers consultation services free of charge to determine if your part is a pre-tempered candidate.
Benefits of Our Pre-Tempered Strip Steel
Hardened and tempered to your production requirements, within a 3 point range on the Rockwell C scale, blue pre-tempered spring steel from Blue Blade Steel allows you to eliminate a number of downstream processes, effectively cutting your costs and avoiding delays:
Eliminate 100% of batch heat treating process
Eliminate distortion caused by batch heat treating
Eliminate

freight costs to and from heat-treaters

Offer a better quality finish for exposed parts

Reduce weeks of lead time for finished parts
Delivered to you production-ready for stamping or power spring manufacturing, our pre-tempered blue spring steel product is custom processed and finished in our facilities to meet your production needs, affording you greater efficiency that can get your product to market faster:
Custom edging
Custom hardness
Custom color (scaleless blue/bright/gold; polished blue/bright/gold)
Custom coils or cut-to-length
Please visit our Processing pages to learn more about our in-house capabilities for custom hardening and tempering, steel edging, steel finishing and steel coils.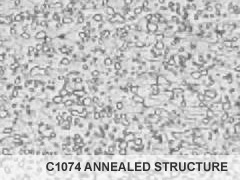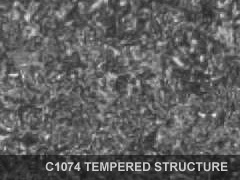 (908) 272-2620
Contact Blue Blade Steel
Minimum Order Requirements:
Min. Sales Order $1200
Customized production runs for materials not stocked:
Min. 3000-5000 lbs / 1360-2267 kg
Made from the Highest Quality High Carbon Steel
US Grades/AISI/SAE
Gauge Ranges*
Thickness
0.011 in.
0.125 in.
Width
0.4 in.
12.5 in.
* Depending upon application
Visit Our High Carbon Steel Page for Specifications & Chemical Composition

Hardened and Tempered Strip Steel Products and Custom Steel Edging Services.
Trusted by satisfied customers for more than 80 years!
Call us at
1-908-272-2620
Click here for our convenient online form.