Services
An Honest Partnership You Can Count On To Manage Your Pre-tempered Strip Steel Requirements.
Demonstrating Our Commitment to Your Success
Recognizing that Blue Blade Steel doesn't succeed unless our customers do, we are dedicated to exploring any extra service that might increase value for your end product. Our goal in partnership with your company is to strengthen your niches in your market with service we customize to make everything in your workday easier - from purchase order to sales order.

Every market is different. Being a privately owned business, Blue Blade Steel is more adaptable. With a focus on long term relationships, we do not ignore any request that stands to strengthen our partnership. Be it faster delivery achieved through our customized stocking programs, or PPAPs and consultations with our engineering and metallurgical team, you can be sure that partnering with Blue Blade Steel creates an extension of your company that is as focused on your success as you are.
Have a specific question you need answered now? Call Blue Blade Steel 1-908-272-2620 today.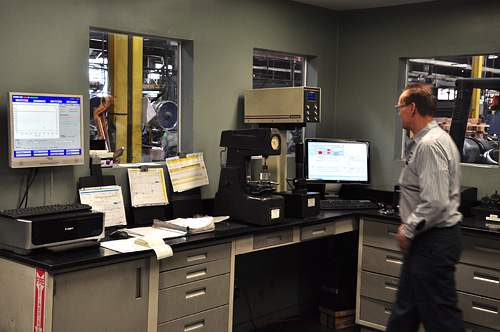 Supply Chain Management:
Time is your most valuable commodity; let us manage your steel inventory.
When designing a customized supply management program, Blue Blade Steel first strives to understand what is important to your sales team, and what systems best promote your product. Whether your sales team thrives on long term price guarantees or requires quick adaptation to market fluctuations, faster deliveries, or quicker quoting, we have programs that will ensure every opportunity for your sales team to flourish.
Next we consider your production and inventory goals. Blue Blade Steel is well versed in JIT, Lean, TOC, and a variety of inventory management systems, and we work with you to resolve the most cost-effective way to manage inventory to meet your goals. When business is strong, you need product quickly, when business is slow you need to limit your inventory exposure to market swings. We will work closely with your team to make sure forecasting is current and accurate and with the fastest turnaround in our industry for pre-tempered, steel processing we will react quickly to changing requirements.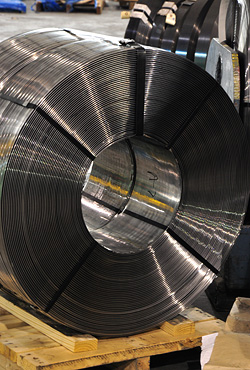 Consultations:
Let our metallurgical and engineering teams be an extension of your company. Whether you are re-engineering an existing part or bidding on new projects, take advantage of our highly educated, experienced engineering and metallurgical staff. Our team will review your requirements and work with you to develop cost-effective grade and process solutions for making your part. Our consultations can eliminate much of the tedious research that goes into part development offering answers to:
Steel grade research
Pre-tempered versus annealed stamping benefits
Die design questions
How to best extend tool/die and part life
Equipment upgrades to maximize stamping efficiencies
Learning whether your high carbon, alloy, or 400 series SST part is a pretempered candidate can be a costly endeavor. Consider Blue Blade Steel your own personal metallurgical and engineering group.
Send your part or drawing to:
Blue Blade Steel
C/O Sales Dept.
123 N. 8th Street
Kenilworth, NJ 07033
bbsales@bluebladesteel.com

Hardened and Tempered Strip Steel Products and Custom Steel Edging Services.
Trusted by satisfied customers for more than 80 years!
Call us at
1-908-272-2620
Click here for our convenient online form.