Materials
High Quality Strip Steel: Alloy Steel, Stainless Steel, and High Carbon Steel
Dedicated to achieving customer success, Blue Blade Steel customizes the highest quality high carbon, alloy, and stainless strip steel to your RC scale hardness range in a variety of colors including gold, bright (silver), and blue spring steel. Our inline coil heat treating process offers cost savings, and speed-to-market your customers require. Our long-standing relationships with leading steel mills guarantee you the quality and availability of our steel supply.
Guaranteed to meet certifications, steel is tested on-site.
Please call for free consultations, and let our experience guide your part designs.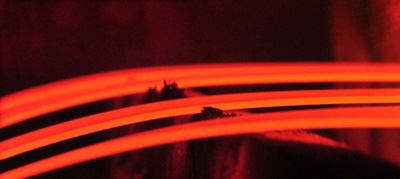 Minimum Order Requirements:
Min. Sales Order $1200
Customized production runs for materials not stocked:
Min. 3000-5000 lbs / 1360-2267 kg
For specific chemical properties and information about available steel strip materials, please visit the pages listed below.
AISI/SAE 6150, 5160, 4130,
4142, 4150, 10B38
AISI/SAE 1045, 1050, 1055, 1060, 1070, 1074, 1075, 1080, 1085, 1090, 1095
Martensitic stainless steel in 410, 420, 440A, 440B

Hardened and Tempered Strip Steel Products and Custom Steel Processing Services.
Trusted by satisfied customers for more than 80 years!
Call us at
1-908-272-2620
Click here for our convenient online form.